The origin of ice hockey is unknown, however, ice hockey probaly evolved from the game of field hockey that has been played in Northern Europe for centuries.
The rules of modern ice hockey were devised by Canadian J G A Creighton. In 1875, the first game of ice hockey with Creighton's rules was played in Montreal, Canada.
Today, Ice hockey is an Olympic sport and the most popular team sport played on ice. Ice hockey is played with two opposing teams wearing ice skates. Unless there is a penalty, each team only has six players on the ice rink at a time. The aim of the game is to knock the hockey puck into the opposing team's net. The net is guarded by a special player called the goalie.
Ice Rink
The first artificial ice rink (mechanically-refrigerated) was built in 1876, at Chelsea, London, England and was named the Glaciarium. It was built near the King's Road in London by John Gamgee. Today, modern ice rinks are kept clean and smooth by the use of machine called the Zamboni.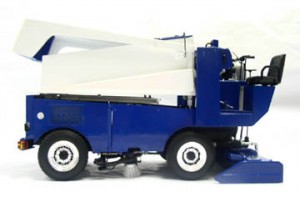 Goalie Mask
Fibreglass Canada worked with Canadiens Goalie Jaques Plante to develop the first-ever hockey goalie mask in 1960.